South Atlanta, GA Medspa
Since 2005, Bella Medical Aesthetics, PC has been a leading Medspa serving South Atlanta, GA and the surrounding areas. We have a board certified physician onsite as well as licensed and certified staff to provide the highest caliber of medical aesthetic care. When you are ready to look and feel your very best, you can turn to Bella! We are dedicated to helping you select the customized treatments that will assist you in meeting your appearance enhancement goals.
Find the Right Treatment For You
Whether you are interested in Juvederm or Botox, lasers or cosmeceuticals or the latest in body contouring, we can assist you with selecting the right treatments that are a match for your needs. At Bella Medical Aesthetics, we provide you with a complete free consultation to discuss your goals for your appearance. Our procedures are safely administered in the office with onsite doctor supervision.
Our Treatments Include:
Your Satisfaction is Assured
Our primary goal is to serve you and make sure that you are completely satisfied with the quality of our services. Our staff goes above and beyond to make sure that you are comfortable and relaxed while receiving state of the art treatments.
Contact Bella
Contact us to schedule a consultation to discuss your aesthetic goals by calling (770) 286-4912. Let Bella be your only choice for quality medical aesthetic care in South Atlanta, GA. We look forward to providing you with the outstanding medical cosmetic services you deserve.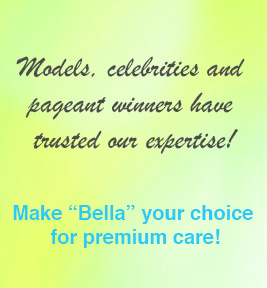 ---
Contact Us